Published on 6th December in the Solomon Star newspaper
On October 22, 2014, my article on 'Chinese Tourists – a hope for Solomon Islands' was published in the Solomon Star. The hope for Chinese tourists was then questioned by many of my good friends in Solomon Islands (SI), basically citing the absence of diplomatic ties with the mainland China. Despite my confidence that the lack of diplomatic relations will never abandon SI authorities to promote tourism in China market, it was considered as a daydreamer by many of my friends in the tourism industry in SI. The fascinating concept of promoting Chinese tourists in SI then become futile, NON-PRACTICAL.
Now, when the SI officially switched its diplomatic ties from Taiwan to mainland China, I thought, it might be good to review and republish the article with some modifications catering to the changed context of tourism industry – global as well as in the context of SI. When formal diplomatic ties created a more favourable ground, this article may fill the lacuna that exist in China – SI tourism relations, particularly by highlighting the prospects of Chinese tourists in SI.
The tourism industry is one of the big industries in the world economy, contributing nearly 10% in world income. The industry is biggest in many countries, including most of the pacific small islands countries such as Fiji, Vanuatu and Samoa, contributing more than half of its National Income. Moreover, the recent World Tourism Organisation (UN WTO) data on tourism industry and its contribution in the world economy shows that the tourism industry is growing very fast, especially in developing countries and now contributing nearly US$ 1.3 trillion in world economy and creating 1 job in every 11 jobs worldwide.
Since long, Europe and North America have dominated the global tourism market in two ways - as a source as well as destination for international tourists – sending and receiving largest number of tourists around the world. However, recent data and evidences shows that such trends are not only changing, but changing at a very fast pace. China now has become the largest source of tourism industry and overtook USA and other European countries in tourism spending in 2016 (see Figure 1).
Figure (1):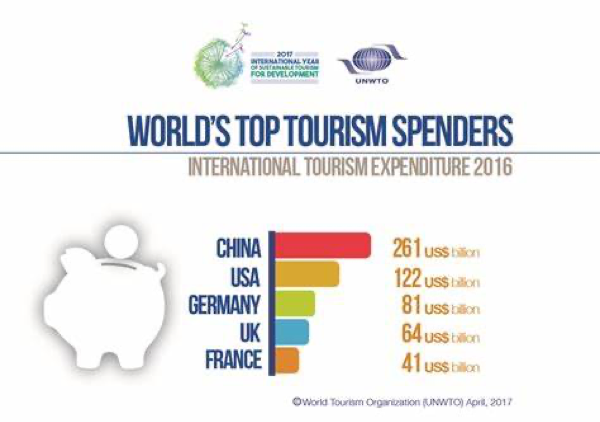 Apparently, the source of global growth in tourism industry recently is China, which experienced a rapid increase in outbound tourism, with more than 100 million Chinese people travelling overseas each year. As a result, China became the largest source of outbound tourist as well as tourism spending in the world.
Good news for the tourism business is that, as per the UNWTO data, the tourism industry is expected to grow continuingly with annual growth rate of 3.3 percent and reaching 1.8 billion by 2030. In addition, international tourist arrivals in emerging markets are projected to grow twice as fast (4.4 percent) as in advanced countries (2.2 percent). Moreover, it is worth noting that the departures from emerging markets, particularly China and other Asian countries are likely to outpace those from advanced countries, driven both by their higher population and income growth rates.
Solomon Islands Tourism Prospects in the Context of Diplomatic Switching
Recently established SI-China diplomatic ties have dismantled the so called 'practical barriers' hindering promotion of SI tourism in the Chinese market. In the context of growing tourism industry in SI and rising importance and contribution of Chinese market in world tourism industry, it is a high time for the tourism industry and government agencies responsible for promotion and development of this industry in SI to think – 'If there is any scope for Chinese tourists in Solomon Islands? This was the same question I asked in my 2014 article in Solomon Star as well.
If yes, Solomon Islands will need to answer following two questions. (i) How to attract those Chinese tourists in Solomon Islands? And (ii) What measures are needed to adapt such a fast changing and fast-growing tourism industry?
In my opinion, sustained global growth of tourism (in general) and growth of Chinese outbound tourists (in particular) presents a great opportunity for a number of Pacific Islands Countries (PICs), including Solomon Islands. It is sure that SI tourism demand will rise over time and the emerging markets in Asia could become a major source of tourists. And, the Chinese market deserves special attention in this regard, both for its large population and rapid income growth.
There are some special reasons as well for SI to consider Chinese market - those I realised during quest when working in SI, designing and later during implementation of a very successful tourism project for development of SI tourism industry funded by Enhanced Integrated Framework (EIF) Programme at the World Trade Organisation (WTO). Then, I got the opportunity to interact with many industry stakeholders, learned people and review the literature on tourism industry in the Pacific and in particular in the Solomon Islands. I found that the Chinese tourists, alike to all other tourists put great value on conventional needs of a tourist, which includes connectivity or transport facilities, simplified VISA procedures, accommodation, tourist activities to be done, etc. However, apart from these conventional means they usually feel comfortable to visit those countries and places where they can find Chinese food/cuisine easily, where they don't face language barriers, where there are Casinos and places which are less crowded, among others.
The pictures shown here were presented during the National Tourism Forum (NTF), held on 29 August 2014 in Honiara. The first picture was presented by Mr. Chris Flynn (then Regional Director, PATA) shows - a heavily crowded Chinese beach, and the second picture presented by Mr. Charlie Panakera (a Solomon Islander, then a senior lecturer in Waikato University, New Zealand) shows how beautiful, peaceful and virgin beaches exist in Solomon Islands.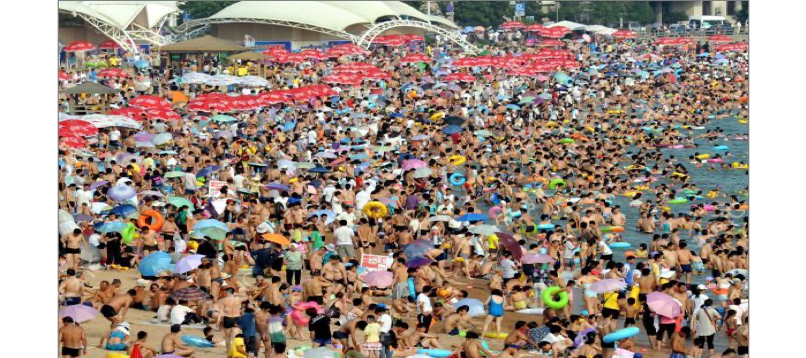 This is certainly a big attraction for Chinese tourist, while they don't have enough space to breathe, even at their beaches. Other conditions are also very favourable. In Solomon, I'm sure; language will be not a barrier, as a huge number of Chinese people are already residing in Honiara and almost in all provinces of the country. They can easily facilitate Chinese travellers with much needed Mandarin language from entry to departure. Chinese food/cuisine is also not a problem in Solomon Islands – as many Chinese vendors are serving meals from their small 'KaiKai bars' (restaurants) within each and every corner of the Capital city Honiara and other places in the country. Even locals are now well familiar with Chinese way of cooking and Chinese food.
So, if all is well, the next question arising is - What needs to be done to attract Chinese and other Asian tourists in Solomon Islands?
The Maldives provides a benchmark for PICs, including SI, as it has managed to attract Chinese tourists at an astonishing growth rate of more than 50 percent per year since 2005. In 2015, Chinese tourists in Maldives reached nearly 250 thousand. In the Pacific, SI can learn from Palau and Fiji, which have received more than 50 thousand and 25 thousand Chinese tourists annually, respectively. In general, SI will also need to create conditions alike other successful countries for the growth of tourists from China and Asia.
In my opinion, these conditions will include greater awareness of the country through marketing and other forms of information dissemination, mobilisation of Chinese community in tourism sector, more frequent and affordable flights/flight connections from China/Asia to SI, simplified VISA requirements/procedures, improvements in tourist infrastructure and services (e.g., hotels, restaurants, transportations, etc.) and greater variety and quality of tourist products - what tourists like to buy, how they like to spend their time and what they like to do?
Moreover, as discussed during the NTF in 2014, Solomon Islands may need an integrated approach to tourism development that involves concerted efforts by the public and private sectors. In particular, the government needs to create necessary conditions for domestic and foreign investment in the tourism industry, including through facilitating land leases for tourist infrastructure development.
If done properly, it can make a significant difference to the future of tourism development in the country, which ultimately will provide a significant boost to the economy through increasing demand of agricultural, handicrafts and other products and services - and create much needed employment opportunities within the country. Moreover, in most of the developing countries, including SI, women are routinely excluded from participation in the formal economy due to heavy reliance on subsistence agriculture and traditional beliefs about women's roles. Therefore, any such expansion and transformation of agriculture from subsistence to a modern sector of the economy will empower women economically by integrating them into formal economy and will also help dismantle entrenched bias against women's participation in decision making at the household level exist in SI.
The benefits of strengthened linkages between tourism and agriculture are multiple. Agricultural exporters face high transportation costs in selling their products to overseas markets, often faces more stringent sanitary and phytosanitary (SPS) restrictions on exports, which significantly restrains the expansion of agricultural export bases. Therefore, by supplying to the domestic tourism industry, agricultural producers would be able to avoid the disadvantages arising from distance/remote location and SPS restrictions on exports. Moreover, if domestic producers are located close to tourism sites, they would also be able to save a significant portion of domestic transportation costs, which are often very high.
Potential for such linkages between agriculture and tourism, and ultimately potential for growth of economy and rural development, are very high - a study based on a "Farm to Table" project by the University of the South Pacific cites estimate that 70 percent of food for the tourism industry in the Pacific is imported.
Let's hope that the SI tourism stakeholders think about Chinese and Asian tourists and do something to gain from this fast-growing source of tourists in order to create jobs, increase incomes of people and make tourism a true source of sustainable development for the country.
*Author is Senior Economist, EMERGE and also International Trade Advisor at the Department of Trade, Tuvalu. He can be reached at bhattshivraj@yahoo.com (Views are personal).